02.01.2015

The result review of Tallivahdin kennel in year 2014


Record amount of puppies and veterans

This year 2014 was historical in breeding in our kennel because we got the first time two litters H and I and they were both very big litters. Our H litter was waited for a very long time about 2,5 years by several people and finally it was here: FH2 BH Tallivahdin Emanze and C.I.B C.I.E FI & LV CH BALTJV-09 LVV-11 LVV-12 FH2 IP2 JK1 TK1 Asher Sus Armoni got 11 puppies on the 10th of February. This litter was the third Tallivahdin litter with 11 puppies! It is also our record litter because there are 9 males and 2 bitches and altogether 8 blonds! I had dreamed of making a blond-blond breed that can have only blond puppies but with H litter I got already as much blond puppies that a normal amount of a hovawart litter has puppies. So in that way my dream of many blond puppies became true!

Our I litter was born on the 10th of June and it is the first litter of Tallivahdin hovis in fourth generation. The mother is C.I.B FI CH HeJW-11 FH1 PEHA-A BH Tallivahdin Forscherin "Ofelia" and the father is C.I.E Ger& GER (VDH)&Aus CH Österreisicher Klubsieger 2010 FH3 BGH3 BG2 RH-E BH Roy vom Wiener Stadtrand. Ofelia, her hostess Saana and me visited Roy´s family in Austria in April and as a great greeting we got 10 lovely puppies, 5 bitches and 5 males. Our puppy average per one litter is now over 9 that is amazing good while the average of hovawart litters in Finland is about 7,5.

I am very proud to say that all our 21 puppies got new loving suitable hovi homes before they turned 8 weeks! That is also a very nice result because breeders have unfortunately had rather many over aged hovi puppies looking for new homes here in Finland especially year 2014. Our new puppies seem to have had a good start in their lives and in following their living I have found facebook extremely handy. We have there Tallivahdin discussion group that has greetings, news with a lot of photos of dogs. Our group has now almost 70 members. It has made the connection with puppy owners a lot more interactive than before. That is a very important thing especially when you breed big working and guardian dogs of strong temperament.

On the 26th of October our A puppies turned 13 years old and 4/11 of them got to celebrate this rather high age of a dog. Unfortunately Anemone "Ronja" who lived in my sister´s family as our neighbor died just few weeks before her Birthday. I saw her every day and with her I got to live again the memorably years of a veteran dog again since our first hovawart Nella. A puppies are our first ones and therefore they have a special place in our heart. Nella´s other litter Tallivahdin B turned 11 years on the 26th of November and also four of them are still living. Hopefully they remain so healthy that they can also celebrate several Birthdays in the future too.

Our Sissi, Cremefarben, and her 10 sisters &brothers turned 8 year in the 5th of July and became also veterans. They all are still very healthy and vivid and hopefully we can enjoy their companionship as long as possible. So this year 2014 we got many new veteran hovis to our kennel and now we have as many veterans (25%) than young dogs (28%).

Test & show results and other merits in year 2014

Altogether seven Tallivahdin hovis took part in 23 working dog tests in year 2014. They had 23 tests altogether and they got 11 (48 %) results and 6 (55 %) were FH2 results. In FH2 competed Cremefarben, Emanze and Freiberufler and they got everyone 2 times FH2 result but unfortunately Englein did not succeed to get any results FH2 result this year. Three puppies of 3 year old G litter showed nicely their working potential in results: Gauner made HK1 and HK2 (human surching in an area in forest + IPO like obedience), Genie made FH1 with nice 87 points and Gewinnerin made BH and FH1 with 89 points. Gauner and Freiberufler represented Tallivahdin kennel in Working dog Championship Games of Finnish Hovawart Club and they both made their 2 class results there: Gauner HK2 as mentioned already and Freiberufler JK2 ( 1 km tracking in forest + IPO2 like obedience). Like in year 2013 also in year 2014 every fifth Finnish hovawart that took part in working dog tests was from Tallivahdin kennel and our result percent 48 was also better than other hovawarts on average that was 40%. We made also our working dog test history when Freiberufler was qualified to IPO-FH Finnish Championship Games, Cremefarben won bronze in Finnish Hovawart FH Championship games and Emanze became the fourth. Unfortunately we had a serious nose tick problem with Repe and Sissi that explains a lot of our failures of tests in autumn and also Repe´s poor tracking in IPO-FH.

Forscherin got closer to her rescue dog career with PEHA-A result and she is the second rescue dog of Tallivahdin history. In order to go for official rescue duties she must still make PEHA-B result this year and then a new qualifying test called VIRTA. Courbette took part in water rescue test but unfortunately did not get any accepted result yet.

In obedience tests there were 6 Tallivahdin hovawarts that took part altogether in 8 tests out of which 50 % were 1 class results. Englein won bronze in obedience beginner class District Championship Games. Freiberufler got the third 1 class result (over 80% of maximum points) 184/200 points and with that he got obedience scholarship TK1 and won the beginner class in Finnish Hovawart Obedience Championship Games in Tervakoski. Gauner became the second there with 183 points and Emanze the fourth with 177 points and there were 21 hovis in beginner class. So Tallivahdin hovis have showed to be very obedient also in year 2014. Finnish mental test was done successfully by 4 dogs and new Tallivahdin point record 194/300 was made by Fährtenhündin.

In dog shows there were 10 dogs altogether in 29 shows. They got EXCellent judgement 14 (48 %) times, very good 9 (31 %), good 5 (17 %) and sufficient 1 time. BOB and BOS placements got 3 dogs together 6 times and all in INT shows. Our biggest highlight in shows was already in the beginning of January in Gothenburg Sweden, MyDog INT shows. Where Forscherin and Freiberufler were the best hovawarts in both days: the female judge but Forscherin BOB and Freiberufler BOS the first day and the next day the male judge put Freiberufler BOB and Forscherin BOS. As a result of that Forscherin became the third Tallivahdin C.I.B and some weeks afterwards also our fourth FI Champion. We were happy to present our only breeder group of this year in Helsinki Winner show with blond hovis Cremefarben (VET EXC), Forscherin (WC EXC1 CQ BB4), Freiberufler (WC EXC2 CQ) and Herzogin (JUN VG4). And we became the second with Honor Price and that was very nice because the judge was hovi world famous Gisbert Langheim.

Closing words and future hopes

This has surely been a very busy year for me. It started with the dog show highlights mentioned before and then the book of different utility dogs and hobbies was published in the end of January. I was asked to write the presentation of breed Hovawart there already in autumn 2012. It was nice to finally see the book "Suuri koiraharrastajan opas" (The big guide book of a dog hobbyist) in real and I was surprised of its´volume: 363 pages that had been written by nearly 100 breeders and dog sport hobbyists! That book was also a some kind of dream that came true.

Despite the breeding and Tallivahdin kennel work I was active year 2014 also in dog hobbies more generally. Our little working dog club organized this year 4 FH tests and I was helping also other working dog clubs in their tests and coaching FH. Yet I can figure that I still had enough time left to train my own dogs and I am very happy to see that they have got better all the time. Training dog for a working dog test needs several hours weekly almost year around. And you must get some advice and coaching too. I am lucky to have found a good coach in FH, Outi Hermiö, who is also FH and IPO working dog test judge. Our co-operation has last already 3 years now and Tallivahdin FH training weekend camp for next spring is already booked with her. In puppy testing and obedience training I have had over 10 years of good co-operation with Kaisa Hilska who is a professional animal & dog trainer and lives near Turku. This winter I try to be more obedient than ever and we will take part to some of Kaisa´s winter courses with Repe. And that is one promise I try to keep.

I have had time to do something else too. As you may know I am a partner and a psychologist in a company I own with my sister and our company Psykologitiimi Päämäärä Oy filled 20 years in 2014. All year round there are 3 other people working with us and in high seasons we have over 20 psychologists and 20 assistents working with us. And that is what I do for living.

This year 2014 became historical in my hobby of horses too. We got our fifth foal in the 3rd of July and in November we bought a seven horse stable from our neighbors. Our horse business has enlarged from one 5 horse stable to two 7 horse stables. In 2015 our stable Tapojärven Rustholli fills also 20 years.

At the moment I am planning for the future operations in our company, in our stable and in Tallivahdin kennel. And I am sure this new year brings a lot of new and exciting things to remember!

BUT NOW IT IS TIME TO THANK YOU ALL FOR THE YEAR 2014 AND ONCE AGAIN CONGRATULATIONS OF ALL OUR SUCCESS! LET US KEEP THE TAILS UP THIS NEW YEAR ALSO!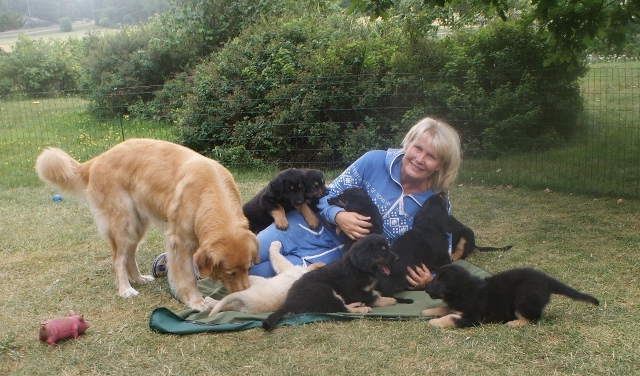 Takaisin